EROTIC CITY AWARDS
Thu
November 8, 2018
9:00 pm
PST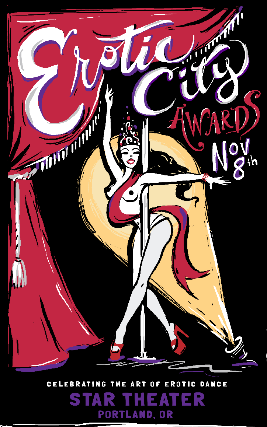 $10.00
Welcome to the Erotic City Awards!
Coming to you Thursday, November 8th at Star Theater in Portland OR, this is the newest adult industry event to hit the northwest that has been curated and designed by women. At Erotic City Awards, we will celebrate the finest in our entertainment industry, watching ladies compete for multiple titles, and the crowning of our Erotic City Queen who will win a $1000 cash prize along with gift packages from our sponsors. We are here to restore the feminine roles that work in today's sex industry and are welcoming women of all flavors, and embracing our exotic natures.
This event will center around the dance competition where 10 ladies take the stage to show us their finest exposition. In addition, we will have various acknowledgements that honor our dancer legends of the past as we embrace the ever changing nature of the community and our work environments.