Jo Jo Stiletto and Miss Fisher Con Present:
MISS FISHNET'S STRIPPER MYSTERIES
Sat
June 30, 2018
9:00 pm
PDT
(Doors:

8:00 pm

)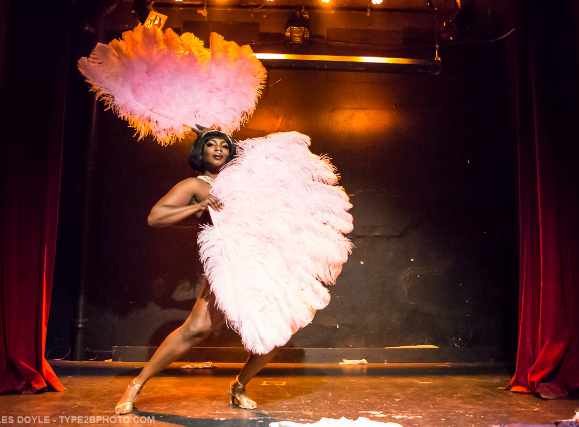 $25.00
Dear Most Esteemed Guest,
You are cordially invited to join Mrs. Prudence Elizabeth Stanley for an evening of "lectures" dedicated to the Womens Hospital of Melbourne. While Mrs. Stanley cannot guarantee her relation, the Honorable Miss Fishnet, will be attendance, your host will most certainly become distracted from the fundraising goals of the evening to enlighten you with stories of her utterly unladylike niece. What could possibly go wrong?
Step back in time for a sizzling night of burlesque without even smearing your lipstick. By popular demand, Miss Fisher Con has partnered with Jo Jo Stiletto to present an extravagant closing night event: the world's only burlesque tribute to Miss Fisher's Murder Mysteries.
Lead actress Rebecca Mmm Davis reprises her role as Aunt Prudence, guiding the audience through a madcap night of elegant fan dances, saucy humor, and dapper detectives. We suggest guests arrive early and dressed to the nines to the historic Star Theater, established in 1911, to enjoy classic cocktails, delightful conversation, and a Miss Fishnet themed photo booth.
Featuring: Al Lykya, Amara Strutt, Ava DJor, Bolt Action, Eva Vivacia, Flora La Fenice, Hyacinth Lee, Mahria Zook, Peter Whimsy, Pinkie Fingers, Sailor St. Claire, The Shanghai Pearl, Tamara the Trapeze Lady, Verity Germaine. With assistance from Miz Melancholy, Scarlett O'Hairdye, Karmen Sutra, and Mandy Flame. Hosted by Rebecca Mmm Davis as Aunt Prudence (note: cast subject to change based on availability). Poster artist: Pau Norontaus and Margaret Darcher.