Poli & Charis Productions + Nope Ent.
The Artifacts w/ special guests F-Dot & Dj Sparks
Fri
September 1, 2017
9:00 pm
PDT
(Doors:

8:00 pm

)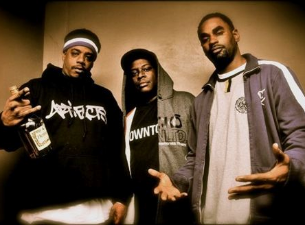 $15.00
The hip-hop trio Artifacts, comprised of MCs El da Sensai (William Elliot Williams), DJ Kaos (Virgshawn Perry), and Tame One (Rahem Brown), were described by Vibe's Christian Ex as, "decidedly geared toward the elusive chimera that is Hip-Hop Purist." Based in Newark, NJ, the trio is noted for verbal stamina, memorable rhymes, and eschewing traditional gangsta rap. The Source's Durwin Chow described the group's music as, "antagonistic freestyle barrages centered around infectiously simple yet assuaging choruses." In an interview with Rigoberto Morales of The Source, El da Sensai described why the band was content being labeled "underground" in the realm of hip-hop. He said, "If it wasn't for groups like us, Beatnuts, Common, Organized, or the Roots..There wouldn't be any underground, nothing secondary to run to..where else would you go? It's also a place where you start and start over."
El da Sensai and Tame One earned a reputation as outstanding graffiti artists in the 1980s by "bombing," which is replacing blighted walls with smooth graffiti murals. Starting in 1980, they "bombed" walls throughout Essex County, which encompasses Newark, Irvington, and East Orange, NJ. They called themselves the Boom Skwad, and later Da Bomb Squad, and attracted an avid group of graffiti-loving fans. Both El da Sensai and Tame One were raised in Newark, where Tame One's cousin, Redman, also enjoyed acclaim as a rap artist. They attended Arts High in Newark, and often spent weekend days there honing their artistic skills, playing sports, enjoying field trips, and learning to emcee, deejay, and to break-dance.
The Artifacts are one of the few hip-hop/rap groups who pay tribute to the mostly bygone era of graffiti art, along with rappers Masta Ace, Rakim, and KRS-One. Their debut album, Between a Rock and a Hard Place, was released in 1994 and featured numerous references to graffiti, particularly in the singles "Wrong Side of Da Tracks" and "Come On Wit Da Git Down". DJ Kaos joined the Artifacts shortly before the release of the band's second album.
The Artifacts typify the thoughtful, party-style hip-hop which was prevalent in the early 1990s, evoking the type of music found among groups like Brand Nubian, Pete Rock & C.L., Main Source, and Organized Confusion, Thrasher Magazine's Chris Nieratko wrote, "Between A Rock and a Hard Place broke all boundaries by delivering honest, accessible lyrics." Although the Artifacts didn't break into mainstream success with a radiofriendly hit, their debut release was generally considered by critics to be substantial, and woefully overlooked. The album's first single, "The Ultimate," was featured on the gold-selling High School High soundtrack. The Source called Between A Rock and a Hard Place, "the purest hip-hop album this year... the Artifacts are a refreshing blast of the lifeblood of hip-hop...." Between A Rock and a Hard Place fared well enough to allow the Artifacts to create their own sound and retain their artistic freedom, and when label mate Lil' Kim reached gold status, the Artifacts were roundly encouraged to release more material.