Double Tee + Dead Nation Presents
ALLIE X Collxtion II Tour
Thu
August 24, 2017
9:00 pm
PDT
(Doors:

8:00 pm

)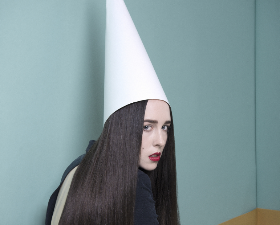 $15.00
"Taking it in its deepest sense, the shadow is the invisible saurian tail that man still drags behind him. Carefully amputated, it becomes the healing serpent of the mysteries."
-- CG Jung
Are you ready for a new pop icon who appears fully formed, perfectly realised, with no rough edges and a cast-in-stone persona? Well keep looking. The bad news -- and this is the best bad news you'll hear for some time -- is that pop's most extraordinary new talent is far from complete, with the momentum of Allie X's futuristic, shape-shifting persona matched only by the propulsive thrust of her captivating music.
Since arriving online in 2014, the Toronto-born, LA-based singer songwriter's radio-ready electronic pop and bold visual style caused instant waves internationally. Even in the hyperbole-strewn landscape of contemporary pop criticism her plaudits stand out as uncommonly positive. Time magazine called 'Catch' a "perfect pop debut single" while Pitchfork likened it to "a shot of adrenaline straight to the chest" and Dazed deemed its creator "a small pop miracle". Allie's main visual at this point -- a maniacal spinning GIF -- was one of the reasons Interview magazine praised Allie X for establishing "her own language for music and art -- reinventing the way the music industry operates". Katy Perry, meanwhile, breezily declared 'Catch' her "summer jam", and tweeted it to over 50m followers. Allie's drip-fed releases picked up further coverage from The Fader, Vice, Popjustice and V Magazine.
But there was more to this than a smattering of great songs and a couple of captivating GIFs. In May 2015, Allie self-published an autobiographical comic book in which her life, or the side of her life she chooses to show, was brought to life in stark monochrome. The book tells the story of Allie's search for a missing part of herself, and her relationship with her shadow self, a reference to her fascination with Jungian archetypes. "Everybody has a shadow," she explains. "If you choose to ignore it, it will drag you down. If you recognise and come to understand your dark side it can actually be useful."
For Allie X this has also involved identifying the parts of herself that she no longer relates to, and leaving them behind. The X she added to her name for this phase of her career is not insignificant. "If you need to become anonymous and wipe the slate clean, X gives you the power to do that," she explains. "In mathematics, X represents the unknown quantity: it's full of possibility. Once all the questions are solved, X becomes something else." At that point, she explains, Allie X will have found the missing part of herself. "Eventually, if all goes according to plan, I won't be Allie X any more," she adds, with words that will strike fear into the hearts of anyone with a meticulously arranged iTunes library. "I'll just be Allie."