STABBING WESTWARD w/ DIE ROBOT followed by HIVE:: Dance Party
Sun
November 12, 2017
9:00 pm
PST
(Doors:

8:00 pm

)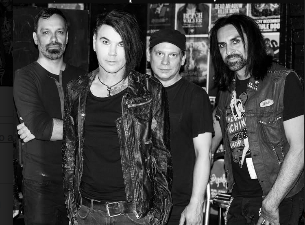 $18.00
STABBING WESTWARD
followed by HIVE::Goth:Industrial:Darkwave Dance Party
Since disbanding in 2002, in a surprise announcement, Chicago born industrial metal band Stabbing Westward have announced a 30th anniversary reunion show in their native town as part of the Cold Waves Festival performing in late September 2016.
The lineup will include founding members Christopher Hall and Walter Flakus, as well as, guitarist Mark Eliopulos and including Johnny Haro of Hall's other currently active band, The Dreaming, on drums. The event added that additional special guests will be a part of the performance. Stabbing Westward's set is set to perform on September 22nd, at Double Door.
Stabbing Westward formed in 1986 but haven't gained any serious momentum until the release of their first album Ungod in 1993 through Columbia Records. However, their sophomore album Wither Blister Burn & Peel, released in 1996 was the album that brought them into mainstream and reached Gold Record Status on the Billboard charts and reached Number 1 on the U.S. Heat Charts. Following that came Darkest Days, which was released in 1998, also became certified Gold. Their final album, self titled Stabbing Westward was released in 2001, to which shortly there after they have announced the band's dissolution.
Singer, Chriss Hall, has since formed his own band, The Dreaming, with former Econoline Crush drummer, Johnny Haro. The band has has toured nationally several times over and their performance has featured Stabbing Westward songs. Most recently, Hall has invited former Stabbing Westward bandmate Flackus to partake in music writing and performing [on keyboards] in which they released Rise Again through Metropolis Records.