SUPAMAN with Burial Ground Sound and Blue Flamez
Thu
July 20, 2017
8:00 pm
PDT
(Doors:

7:00 pm

)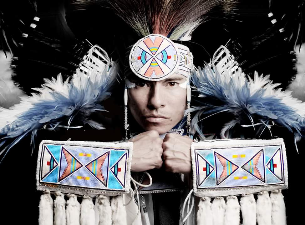 $12.00
The news: Christian Parrish Takes the Gun. Remember his name.
The Apsáalooke American Indian hails from the Crow Nation Reservation near Billings, Mont., and on March 21, the MTV Iggy blog named him Artist of the Week from among hundreds of competitors.
What makes him special? Well, he raps under the name "SupaMan," he sings, he makes crazy drum loops, he's a champion powwow fancy dancer and sometimes, if you're lucky, he does all four at the same time:
Amazing. This is an exciting victory for a unique brand of hip-hop that's yet to garner significant mainstream recognition. Indigenous rappers have shaped the movement since the early days, from Melle Mel of the Furious Five - who is half Cherokee - to the contemporary stylings of City Natives and Red Cloud.
"Native Americans grasp that culture of hip-hop because of the struggle," says SupaMan. "Hip-hop was talking about the ghetto life, poverty, crime, drugs, alcohol, teen pregnancy; all that crazy stuff that happens in the ghetto is similar to the reservation life. We can relate to that."