True West Presents
THE DREAM SYNDICATE with Eyelids
Fri
September 29, 2017
9:00 pm
PDT
(Doors:

8:00 pm

)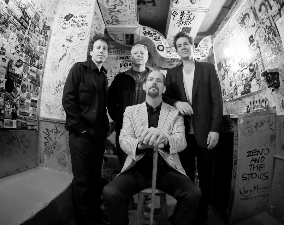 $20.00
At one point during the making of our new record I said to my bandmates, "hey, you only get one chance to make a first Dream Syndicate album in 30 years once in your life." It's a strange statement but one that's hard to refute (unless we end up making one at some point in our late 80's--which, well, you never know).
But that was the attitude we brought to the project. Either the record was going to be great, everything we hoped it would be, or we would just shelve and write it off, both financially and publicly, as a bold experiment that didn't work out.
We felt the odds were in our favor. The 50+ shows we'd played since we reunited back in 2012 had been among the best the band ever played, the perfect mix of agile improvisation, wild abandon and rock solid grooves that had always been the band's hallmark. The only 21st century addition to the band, guitarist Jason Victor who had played with me for years as a member of my solo backing band the Miracle 3, silenced any doubters within minutes of every show. He was the perfect and undisputed heir to the Syndicate axe-slingers who had come before--raw, mercurial, knowing and skilled.
And I wrote a bunch of songs to take down to Montrose Studios in Richmond, Virginia, a place I had worked often in recent years and felt was the perfect immersive retreat where we could conduct our laboratory of past, present and future. It's the kind of studio where you can grab a guitar, sandwich, cup of coffee or beer from your temporary home and stroll just a handful of steps to the studio, ready to work at almost any hour of the day. The Dream Syndicate, after all, was never really about a ticking clock, never a slave to time or space.
The magic? It was there. It was there with almost as much ease and grace as the first rehearsal we had three years before in Madrid despite Mark Walton, Dennis Duck and I having not played together for several decades. In a little less than a week we recorded much more than we needed, guided as co-producer and joined on keyboards by our old pal Chris Cacavas (who was on hand as full-time chef as well--love that guy!)
It was obvious that this would become a record, would not be tucked away as a curio to ooze out over the decades as a bootleg or maybe even forgotten. This was for real. This was going to be the fifth album by the Dream Syndicate, albeit with a long gap since the fourth.
What was started in Richmond, ably recorded by Adrian Olsen (with assistance from his dad, Montrose Studio founder Bruce Olsen) was moved back north to be mixed at Water Music in Hoboken, New Jersey by the legendary John Agnello, who has produced, engineered and/or mixed six of my previous albums. He was the perfect choice, a kindred soul in history, savvy, humor and boundless enthusiasm. The cherry on top was the peerless mastering skills of Greg Calbi, another legend and another regular collaborator of mine.