MIKE THRASHER PRESENTS
TOADIES with Local H
Sat
September 30, 2017
9:00 pm
PDT
(Doors:

8:00 pm

)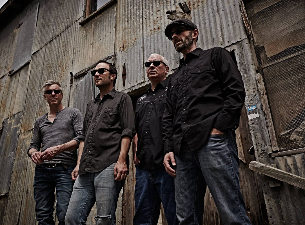 $21.00
Its been 23 years since the Toadies started playing rock music in Fort Worth, Texas, but even the band will admit that the road they've taken over that lengthy period of time has been anything but smooth.
Through lineup changes, shelved albums, member departures, band break-ups, one-off reunions and full-on reformations, the Toadies are an act that has experienced nearly everything -- except, perhaps, the freedom to grow as they choose.
On July 31, the Toadies will release their fifth full-length album -- a disc fittingly called Play.Rock.Music., because, perhaps for the first time in their career, the band feels capable of unapologetically doing just that.
After bursting onto the national scene with their breakthrough Rubberneck album, which begat their signature single "Possum Kingdom," the successful follow-up single "Away" and the immense fan favorite "Tyler," the Toadies returned to the studio in 1998 with the pressure of trying to match their first album's success. The result was a disc called Feeler, an album the band's then-label home, Insterscope Records, was supposed to release in 1998/99 but decided to shelve despite the band's protests. So it was back to the drawing board for the 2001-released Hell Below/Stars Above, an awkwardly timed sophomore album that enjoyed moderate success and almost universal critical acclaim but was ultimately doomed because of the seven-year wait it took to arrive.
Without question, it is: With the band's second successful stint now having lasted almost as long as the initial run, Play.Rock.Music. showcases a band in full stride, an outfit with renewed vigor and, perhaps most important, a group with a clear and confident understanding of itself.
The Toadies' long, slithering road to this fifth full-length may not have been pretty. But should it have been? Not at all.
The Toadies don't make pretty music. They make music that music that crawls under, into and through your skin. They make music that makes neck hairs stand on end. They make music that begs to be blasted at full volume -- with haunting lyrics that bear their battle scars proudly.
The Toadies do that masterfully on Play.Rock.Music. And, Lewis promises, they plan on doing that for many other records to come, too. Surrounding the release, they'll proudly showcase this new material this summer - first, while on tour with fellow '90s stalwarts Helmet and, later, at their fifth annual Dia De Los Toadies event in New Braunfels, Texas, on August 31 and September 1.
This, after all, is a band that's released just five studio LPs in 23 years. So you get the feeling that Lewis, Reznicek, Vogeler and Blair won't mind waiting a little longer before writing the remaining chapters in their ever-undulating story.