Soul'd Out + PDX Jazz + Beloved Proudly Present
HABIB KOITÉ w/ special guest DAKHABRAKHA
Fri
November 3, 2017
9:00 pm
PDT
(Doors:

8:00 pm

)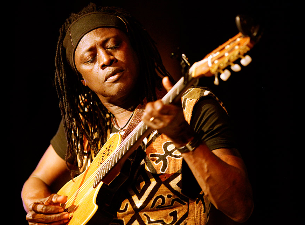 $30.00
One of Africa's most popular and recognized musicians, Habib Koité is a modern troubadour with extraordinary appeal because Koité's musicianship, wit and wisdom translate across cultures. Hailing from the musically prolific West African nation of Mali, the guitarist and composer has been named the biggest pop star of the region by Rolling Stone. Over the past decade, his artistry and magnetic personality have made him an international star, delighting audiences the world over, and placing him firmly among the leading figures in contemporary world music. Bonnie Raitt proclaims, "first there was Hendrix, then Stevie Ray, and now Habib." Koité's most recent release, Soô (which translates to home) looks squarely at his native land, a country torn apart by violence over the last two years, at a time when a real feeling of home couldn't be more vital.
DakhaBrakha -- is world-music quartet from Kyiv, Ukraine. Reflecting fundamental elements of sound and soul, Ukrainian «ethnic chaos» band DakhaBrakha, create a world of unexpected new music.
The name DakhaBrakha is original, outstanding and authentic at the same time. It means «give/take» in the old Ukrainian language.
DakhaBrakha was created in 2004 at the Kyiv Center of Contemporary Art «DAKH» by the avant-garde theatre director -- Vladyslav Troitskyi. Theatre work has left its mark on the band performances -- their shows have never been staged without the scenic effects.
Having experimented with Ukrainian folk music, the band has added rhythms of the surrounding world into their music, thus creating bright, unique and unforgettable image of DakhaBrakha. It will help to open up the potential of Ukrainian melodies and to bring it to the hearts and consciousness of the younger generation in Ukraine and the rest of the world as well.
Accompanied by Indian, Arabic, African, Russian and Australian traditional instrumentation, the quartet's astonishingly powerful and uncompromising vocal range creates a trans-nationalsound rooted in Ukrainian culture.