Engine Driver Presents
B. DOLAN, DJ ABILITIES, Cas One vs. Figure with special guest Dope KNife
Sat
April 8, 2017
9:00 pm
PDT
(Doors:

8:00 pm

)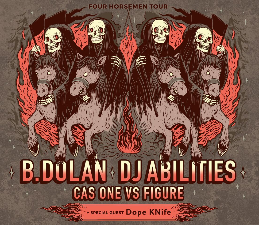 $15.00
B. Dolan is an explosive, confrontational hip-hop lyricist and performer from Providence, RI who first came on the scene in 2008. Starting with a lo-fi, apocalyptic concept record titled "The Failure" Dolan floored listeners with tracks that were at turns personal, poetic, sweeping and strange. Years ahead of its time stylistically, it was released by Sage Francis' Strange Famous imprint, where fans began slowly gravitating to the album and to Dolan's intense live performances. One of those fans, producer Alias of Anticon Records, would become the sole collaborator on Dolan's 2010 follow-up "Fallen House, Sunken City", an underground rap opus that was praised by critics and fans alike, cementing Dolan's place in the landscape.

Turning to hip-hop's favourite unofficial format to explore different styles and experiment, Dolan then released a three-part mixtape series titled "House of Bees vols. 1-3" Political mixtape tracks like "Film the Police," "Which Side Are You On?" and "The Devil is Alive" would become some of the rapper's biggest anthems, while an exhaustive worldwide tour schedule won an army of fans for the unlikely bearded emcee from the Northeast.

in 2015, Dolan upped the ante yet again by self-producing an entire LP with a cast of over 30 musicians, vocalists and beatmakers. "Kill The Wolf" featured contributions from a diverse group of peers that included Kathleen Stubelek of the hardcore act Circle Takes the Square, Dave Lamb from Brown Bird,Buck 65 and Aesop Rock.

Since his signing to SFR, Dolan has toured exhaustively and internationally to win himself a devoted cult following. So far his continually shapeshifting presentation, outsider perspective, and masterful execution have kept them coming back.
DJ Abilities
Billy Freekin Dee. In the beginning… there were turntables on a hardwood floor. DJ'ing for the first six months was done on the ground with a case of beer. Eventually he got a table a mpc and better. With this betterness he was able to release 2 mixtapes, produce 4 full length albums, win 2 DMC's and play hundreds of shows. He is now combining all of these experiences together to create one performance that you can dance to or sit back and enjoy. or hate. Dj Abilities for 2011.
Cas One vs. Figure
Known individually throughout the independent music world for their ferocious talents in front of the mic and behind the boards, long-time collaborators Cas One (raps) and Figure (beats) have made their artistic union official and signed with Strange Famous Records for their first full-length group album, set to drop late in 2016.
These monsters of the Midwest hail from the miniature metropolis of Evansville, Indiana, USA – not the first place on the map that leaps to mind when considering incubators for cutting-edge compositions in the indie rap and EDM worlds. Despite lacking the benefit of big-city support systems, both Cas and Figure have managed to build cult-like followings and gain national notice for their individual endeavors over the years.
Never hiding their fangs, they strive to distill the aggressive nature found in their acclaimed stage shows into their SFR debut, a record that maintains that same energy in your headphones.