Soul'd Out Festival Proudly Presents
GHOST-NOTE + MonoNeon with Coco Columbia
Thu
April 20, 2017
10:00 pm
PDT
(Doors:

8:00 pm

)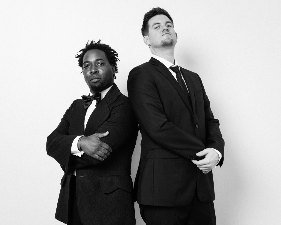 $15.00
If the Grammy Award winning band, Snarky Puppy, was a heart, drummer Robert Sput Searight and percussionist Nate Werth serve as its explosive pulse. World renown for their artistic communication through rhythm, this dynamic duo debuts their own project, expanding their percussive voice into a night of melody through innovative grooves and captivating artistry.
Robert Sput Searight is one of the most influential drummers and producers in modern music. Hailing from a family of musicians in Dallas, Texas, Searight came up alongside artists like Erykah Badu, Norah Jones, and Roy Hargrove at the world-famous Booker T. Washington High School for the Performing Arts. He won a Grammy Award at age 18 with his own group, God's Property, who changed the face of Gospel music with their debut album. Since then, he proven to be unparalleled in versatility as a drummer, keyboardist, and producer. Artists like Snoop Dogg, Erykah Badu, Celine Dion, Justin Timberlake, P Diddy, Timbaland, Myron Butler, and Kirk Franklin employ Searight's talents regularly.
As the undeniable secret weapon of Snarky Puppy, Nate Werth is both rooted in tradition and constantly innovating in the percussion world. His creative approach to sonic possibilities and rhythmic interplay has been integral to the sound of the group, and has earned the respect and support of percussion big-wigs like LP founder Martin Cohen. Performing and recording credits include Screaming Headless Torsos, David Crosby, Q-Tip, Lalah Hathaway, Susana Baca, The Lee Boys, Turkuaz, Myron Butler and Levi, Jamison Ross, and The Metropole Orchestra, and many more. Having studied Indian, African, and Latin American traditions extensively abroad, Nate brings a unique sound palette to every musical environment, his deep sense of groove, passion and eclectic style, result in a distinct musical voice that propels him across musical borders.
Ghost-Note
MonoNeon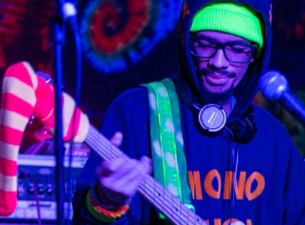 MonoNeon (Dywane Thomas Jr.) formerly known as Polyneon (born August 6, 1990) is a bassist/experimental composer. His bass playing style can be described as "funky with unusual characteristics". His compositions are usually based on ideas inspired by various avant-garde art movements (Minimalism, Dadaism, Surrealism, Pop Art, and etc). Also his music is characterized by polychromatism (colors), organized sound/noise, microtonality, automatism, and etc. His influences are John Cage, Iannis Xenakis, Morton Feldman, Ivan Wyschnegradsky, Milton Babbitt, and etc. One of Thomas' primary goals is to possibly combine the sounds of John Cage and Mavis Staples, Iannis Xenakis and Bobby Womack, Stockhausen and Albert King in his bass playing and compositions.
MonoNeon is currently developing his very own ''Southern Soul Micro''® sound that involves microtonality, concepts of various visual art movements in music and the greasiest grooves this side of the Mississippi!!
Dywane was born in Memphis, TN. He began playing bass guitar at 4 years old, playing a right-handed bass upside down (lefty). He is actually right-handed but plays left-handed. His musical background is blues/southern soul and funk (Z.Z. Hill, Johnnie Taylor, Little Milton, Denise LaSalle and etc). Followed by branching out into gospel, avant-garde/experimental music, and etc.
The "Polyneon" concept (now known as "MonoNeon") that Dywane created is something that was developed through years of introspection and when he stopped thinking about the worldly idea of becoming or being a great musician. "Polyneon" (now known as MonoNeon) is not only based on musical ideas, but also his way of living. The idea is vague and is still being developed.
The "Readymade bass": One distinctive characteristic of Thomas' "readymade bass" is the ordinary sock covering the headstock. Also the use of colorful duct tape, the "Polyneon" (MonoNeon) name, and other mundane items upon his basses. I guess you can think of it as a parody of the electric bass. Readymade art is actually a 20th century art form from Dadaism, that was developed by Marcel Duchamp.
Coco Columbia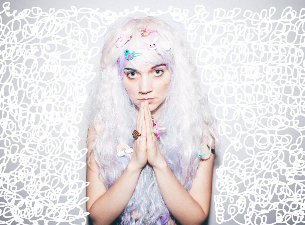 Music school dropout Coco Columbia burst onto the Portland music scene in 2014 with her debut, Kickstarter-funded album "The Weight." Columbia set aside her passion for jazz drumming to teach herself how to write songs, record, make beats, and play piano. Having never performed live, she put together a group of young Portland jazz musicians to learn her material.
Columbia released her sophomore record, "When the Birds Begin to Walk" last August to critical acclaim in the Portland music scene. Her music fuses infectious indie-pop melodies, off-kilter rhythmic feels, dreamy-eyed electro-soul soundscapes, and jazzy harmony to create her own brand of bumpin' future-pop.