Soul'd Out Presents Reggae Legends
THE GLADIATORS w/ Droop Lion, Rising Buffalo Tribe, & Buddy Jay's Jamaican Jazz
Wed
February 22, 2017
9:00 pm
PST
(Doors:

8:00 pm

)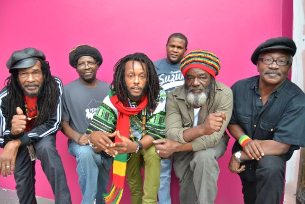 $20.00
Founded in 1965 by Albert Griffiths, The Gladiators has released some of the most mythical songs of Jamaican reggae. Their first hit, the single Hello Carol, was released in 1968. In 1976, thanks to their signature at Virgin, the trilogy Trenchtown Mix Up, Proverbial Reggae and Naturality has been distributed all around the world and some of the songs of these albums have become classics of the reggae as Mix Up and Roots Natty Roots.
The band has always been very productive and in 2014, The Gladiators had already released more than 40 albums. The lyrics are often militant and the very recognizable vocal harmonies are unquestionably a major part of the success.
At first, The Gladiators were a vocal trio. With the departure of the two other singers, Albert Griffiths took the leadership. Clinton Fearon spent a few years by his side but in 1987, he left the band to start a solo career. Beside Albert Griffiths (guitar and lead vocal), the line up includes Gallimore Sutherland (bass guitar and back vocals), Clinton Ruffus (guitar), Vernon Sutherland (keyboards).
In 2004, Albert Griffiths decided to stop touring, and at first, he passed on the torch to his sons Al on vocals and Anthony on drums. Together, they recorded the album Father and Sons in the Anchor studio in Kingston. After a few tours in this line up, the historic members of The Gladiators (Gallimore Sutherland, Clinton Ruffus, Ruddlowe Robinson, Vernon Sutherland) and Anthony Griffiths, who remains the drummer of the band, chose Droop Lion to be the new singer of the band, whose grain of voice is quite close to the one of the original singer.
The young artist, who already got noticed in 2011 with his hit "Freeway", and as the support act for Capleton during one of his European tours in 2013, is full of promises !
Early 2014, Droop Lion and The Gladiators released a new album entitled "Back On Tracks" recorded at Clive Hunt' studio in Kingston, The Mixing Lab. Droop Lion and The Gladiators have since toured several times in Europe performing the traditional repertory of The Gladiators as well as their new songs, which renew and energize the show !